First stop: the vibrant & creative city of Detroit.
After years of economic, demographic & social crisis – leading to the city's official bankruptcy in 2013 – Detroit communities are struggling to foster their city's comeback, while solving some of its massive social challenges. The Build Institute, a non-profit incubator, trains, develops, and coaches social entrepreneurs in Detroit's small business community. By empowering local entrepreneurs to affect real change in their communities, it helps bolster the growing social entrepreneurship movement in Detroit.
Wide Open, conducted by two EDHEC Alumni, met with April Boyle, founder & director, to understand how an incubator can both drive economical value and social justice in its territory.
Key driver to community revitalization is through small businesses built by the people who live there and knows the needs of their community
April Boyle, founder & director, Build Institute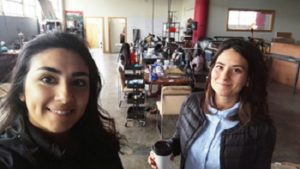 TALENT IS UNIVERSAL,
OPPORTUNITIES ARE NOT
The main focus, with the Wide Open Project, is to understand how a territory and its communities can be positively impacted by alternative third-places: incubators, livinglabs, ecovillages… combining community empowerment and value creation.
The goal of this research, conducted by two EDHEC Alumni, is to find out how these impactful models work, and how do we can duplicate them. We chose to start with Detroit, to discover the many initiatives responsible for the city's current come back, which also tackle some of its big social issues. The city is now at a turning point: its development can go many different ways, some more inclusive & sustainable than others. There is something about Detroit that really embodies the spirit to start anything you want, start over, start fresh and start a business. It is a big city but small community of makers, small business owners and people who really want to support each other.
At Build Institute, various ethnicities & incomes are represented among students: 45% African American, 42% Caucasian, 5% Hispanic, and 5% other ethnic backgrounds; 73% of graduates are low to moderate income, and 83% of Build students are female. Starting with adaptable payment conditions, anybody may afford their core 8-week business and project planning class, designed for aspiring and established entrepreneurs. Classes are taught by local experts and cover all the basics of starting a business – from licensing to financial literacy, market research to cashflow and more. The idea is that students leave the class with a drafted business plan, a cohort of fellow entrepreneurs in Detroit, and the knowledge and confidence to take their idea to the next level.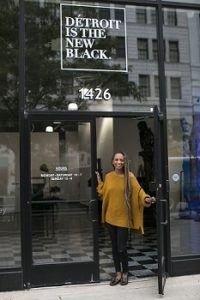 OVER HALF OF BUILD INSTITUTE ALUMNI ARE NOW MENTORING CURRENT STUDENTS
"We know talent is universal, but opportunities are not" says April. "Here, we empower people to launch ideas and grow businesses by providing access to education, resources, and a supportive engaged community".
Build Institute keys of success? Firstly, their ground-focus approach: the key driver to community revitalization is through small businesses built by the people who live there and knows the needs of their community. At Build Insitute, they conduct classes with the neighbors, on the ground. The locally established business owners are often their facilitators and graduates, and help them identify the pain points and joys of each neighborhood. They also have a strong Alumni community: over half of alumni are now mentoring current students, and most of them become business partners. Their peer-to-peer learning approach and camaraderie allow their participants to share and grow together, forever developing a support network that they can rely upon.
Among the many success stories that Build Institute has contributed to accelerate Détroit Is The New Black, a now-famous business created by Roslyn is a nice example. She supports local designers by providing them with retail space and a meaningful label. Her famous store now also hosts many successful private events.
The Build Institute really helped create a strong and inclusive community of social entrepreneurs in Detroit. With their innovative approach, they prove that it is possible to drive economical value for the city, without letting the local communities behind. Thanks to their programme, any Detroiter is given the chance to try and launch a business and become actor of the economical and social life of its very own territory. As researchers of inclusive and innovative models, the two EDHEC students behind the human adventure that is Wide Open were amazed to see such an empowering player, driving real change while boosting Detroit's economy. In a time when the city is plagued with violent gentrification in its center area, pushing the most fragile communities out of Downtown, this sustainable approach brings hope, showing that it is possible to do differently: fairly and sustainably.
After Detroit, Wide Open will travel Montreal, to meet the teams of L'Entremise, a new player introducing temporary occupation of vacant spaces in the city, and Temps Libre, a non-commercial third-place fostering citizen interactions.
We are glad if you enjoyed reading this article. More to come soon!
Follow their adventures directly through their social media networks: facebook, linkedin and twitter!